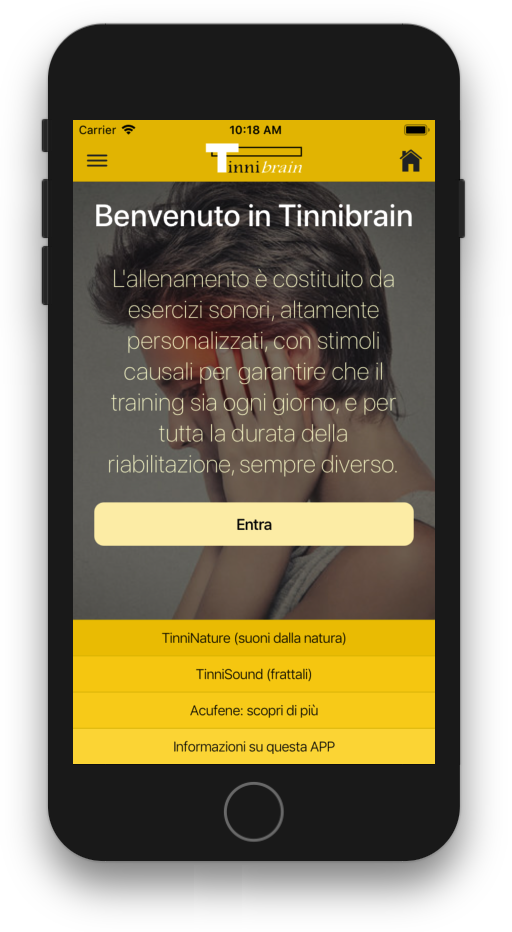 TINNIBRAIN® is an innovative personalized app for tinnitus support, intended for Apple and Android software platforms, developed on the knowledge of Conditional Acoustic Neuromodulation. The program consists of personalized sound exercises, with causal stimuli to ensure that the training is every day, and for the entire duration of the training, always different.
The sound exercises are built on the frequency characteristics of tinnitus and allow training in adults in the field of auditory selective attention, acoustic memory and perceptual learning. The user actively participates in the exercise, as opposed to what have been the strategies of use and application of the classic sound pathways to support tinnitus until now.
The training allows to enhance the attentional skills towards external sounds, develop conditioned listening strategies, increase the ability to control symptom perception and reduce the tinnitogenic substrate.
By searching for the TINNIBRAIN app, with your iPhone or Smartphone, after registering on the site, the user can enter the heart of the application. On the basis of the data entered, the personalized program of sound exercises is downloaded. A guide informs the user on the modalities and correct development of the support path, which involves actively listening to a daily sound track - perceptual training lasting 15 minutes - for six months.
The conditioned listening (Auditory Perceptual Training) of sound pieces constructed according to the principles of the Auditory Discrimination Task constitutes a useful support that allows the user to divert attention from the tinnitus and develop selective attention towards other sounds.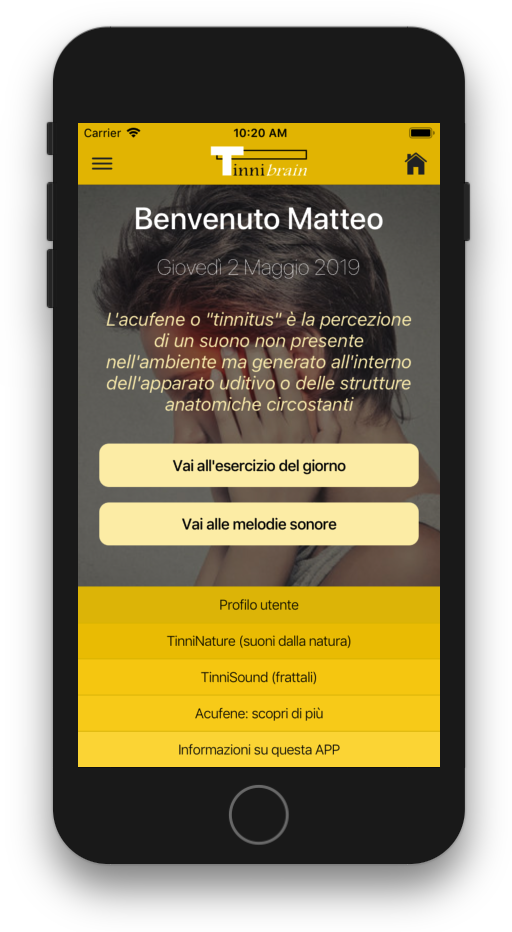 At the same time as the training course, the app provides daily information on tinnitus through simple phrases that can be useful in managing the symptom.
The app is completed with a series of sound tracks (sounds of nature with a neutral value) useful for promoting concentration, relaxation and night rest.